From: Mark Walter
Date:

Dear Kit Car Builder,
I know the feeling of excitement when you finally make the decision to invest your hard earned money in to your dream project of building a kitcar. You look around for the ultimate dream kitcar body and you realize that these kits are really expensive.
Lamborghini Countach body kit can cost you $10,000+USD Ouchh!!!!!
Then you have to consider the shipping costs and when the body kit arrives the body parts never fit together properly straight out of the box. So your left with no choice but make modification and spend more money and time!!!!!
I thought the whole point of building a kitcar was to add your own individual touch to the project not fix OTHER PEOPLES MISTAKES!!!!!
Some time ago I set out to build a Lamborghini Countach replica. It seemed the idea was to save money and have the car of my dreams.
"Unfortunately I quickly discovered that sourcing and building a Lamborghini Countach replica was more difficult and EXPENSIVE that I thought"
I researched night and day to find anything that could help me with my project. But frustrating searches on the Internet only turned up dodgy companies selling expensive body kits, or finished cars that just break the BANK.
I set out on a mission to build the car without buying a body kit, that's right!
I built the body from scratch!
After many months of concept design work and many more in construction I completed the body, I must say I was very impressed with the result. (…many cold Beers where drunk to celebrate the achievement…)
On the weekends my friends would come over for a beer just to hang out in the garage and talk about the Lamborghini. They where really fascinated about the process, how I could have made such a perfect job knowing I had no experience in building a car body from scratch. I must say it's a hot topic, everyone wants to build and own one.
One of my friends asked me if I could teach him the process as he wanted to build one as well.
So I decided to create the online video guide "Kitcar Plans System" so anyone can build any sports car body they chose at home with no prior experience using just basic tools, in their own garage.
All you need is a computer and a printer to start!!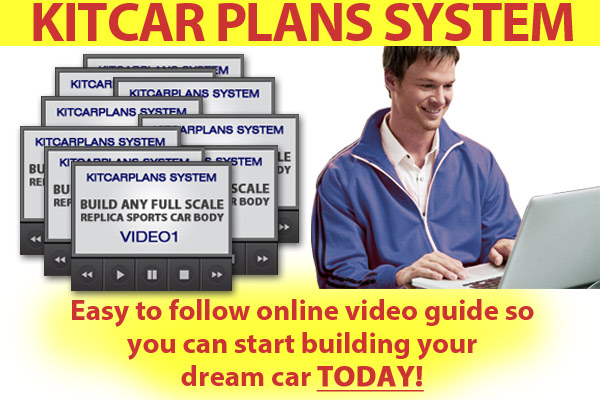 What you get in the system :
Pitfalls to watch out for before you start building.
Getting your car model prepared.
Scaling your model to the correct size.
Sourcing materials for FREE.
Creating full scale body templates.
Building the full scale body plug.
Building the body.
Frequently Asked Questions:
What is the KitCarPlans System?
It's a unique video based instructional system with lots of resources and files that teaches you how to build any car body from scratch. The software we teach you how to use runs only on Windows operating system. If you have any other operating system you will need to run WINE compatible windows OS loader.
Once I purchase the system how long do I get access for?
The access to the system is for life with the one payment you can access the members area at any time as long as you want.
I have never built a car before can I build a kitcar?
YES! Most people can build a kitcar from scratch we show you how to do it using videos. All the skills you need can be learnt really quickly while you build your dream car.
Does your system show me how to build the body?
YES! We show you how to build the body from scratch. The same secret methods that have been used for many years by the pros. You will use your computer to make templates for the body formers and so on....it's all explained in the system.
Will the car look real?
YES! All cars built using our system end up looking exactly as the real car as we use 3D models of the real vehicles and the measurements are the same.
Can I use real windscreens for my car?
YES! We recommend you buy OEM glass which is after market and its much cheaper then the original.
How long does it take to build a body?
This depends on how much time your willing to put in at the same time and how many formers you decide to use for the body. We have heard that some people have built a body in 3 weeks. The more formers you use to form the body the more accurate the shape will look and you will not need to smooth out the contours as much. All of this is explained in the system.
What customers have said about the system:

I'm an owner of a "Sterling". After watching your videos it inspired me to modify the roof of my car and make some doors. It's a great source of information I recommend it to anyone.
Tom Herston, USA

I was looking for a body styling kit for my Nissan, I decided to make my own modifications using your techniques and I have a unique looking car. Thanks for all the help.
David Wilson, UK


I've had drawings of my concept car for years now, with no knowledge of how to build a car from scratch it would have been impossible for me to start the project. Thanks to your system I'm currently constructing the fibreglass body shell. Keep up the great work.
Shane Rianey, DK
The entire system will be immediately available for you to access via the members area so you can get started right away after ordering. This system is NOT available in stores, so you can only access it through this website. You can log in at any time and access the content as our team constantly reviews and adds bonus material. You will have lifetime access to the members area.
BONUS #2: VW Sub-Frame Chassis plans
Turn a VW in to a Lamborghini Countach using these chassis plans. PDF format instant download.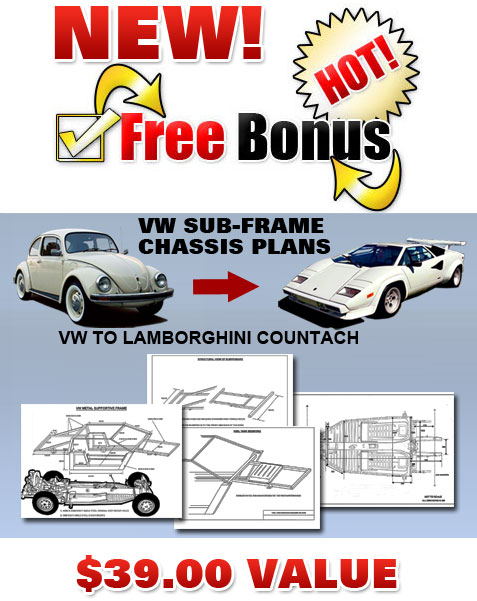 BONUS #3: Ford GT40 replica chassis plans.
These plans can be easily modify to suit any other mid engine sports car. PDF format instant download.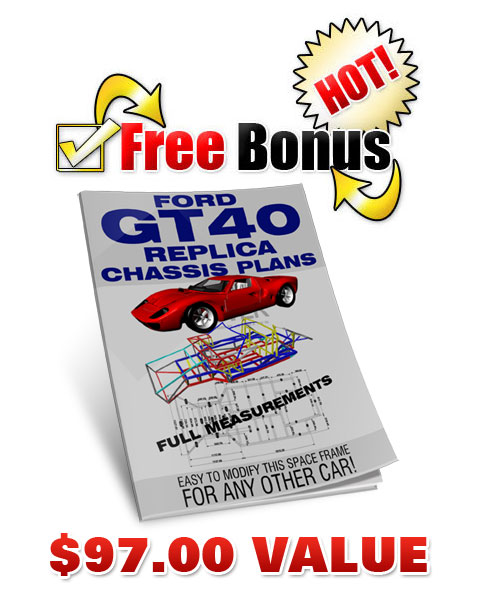 BONUS #4: Fiberglass Mould Making Secrets For Kitcars.
This guide shows you how to make moulds from tricky body sections of your car. You will be making moulds like a pro in no time. PDF format instant download.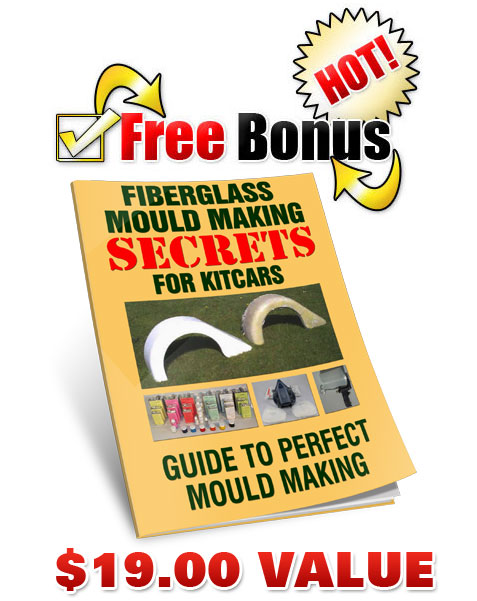 BONUS #5: Trike Plans
This guide shows you how to make Trike from scrap yard junk. PDF format instant download.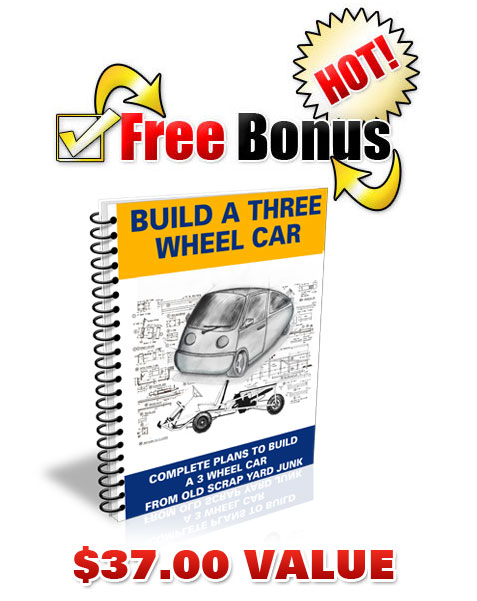 " You're Also Getting A NO-RISK,
60-Day Money Back Guarantee ..."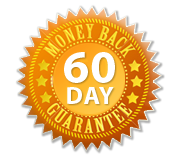 Order Now at Zero Risk You Have a Full 60 Days to Test Drive the "Kitcar Plans System"…
I am 100% confident that this is the best approach to building a car body in a way that dramatically save you heaps of money and time. No other product is aimed specifically at teaching you how to do this.
I am assuming all the risk – So you can test drive this for a full 60 days. In the event that you don't think this is for you in this time period, just send me an email and you will receive all your money back, period.
So this is what you will get if you Order NOW:
"Kitcar Plans System" the video guide to making your own car body like a pro. $127 NOW $49
BONUS #1: 100's, of 3d car model resources. Normally $197 FREE
BONUS #2: VW Sub-Frame chassis plans. Normally $37 FREE
BONUS #3: Ford GT40 replica chassis plans. Normally $97 FREE
BONUS #4: Fiberglass Mould Making Secrets For Kitcars. Normally $19 FREE
BONUS #5: Trike Plans . Build a trike from scrap yard junk. Normally $37 FREE
Total Value Of $387
Today ONLY $49
Or:
Pay with Bitcoin email us for the instructions at: support@kitcarplans.com

Remember, this offer can end at ANYTIME and if you wait, you may be out of luck to receive this system at such a low one-time investment of only $49 with all the FREE bonuses total valued at $387 I have had many emails from customers telling me this price is too low. You can test the system today with no risk because you have a full 60 days money back guarantee. My last message to you is don't be the one left behind in the dust. Opportunity doesn't knock twice.